Ref:
Date:
Location:
Photographer:
Ref:
Date:
Location:
Photographer:
Julia Giles Artwork
Since my initial training as a painter, I have extended my practice to include photography, video, performance, land works and installation. I have used these media to explore the space we inhabit in the interaction between the elements and the land. Most of my work is drawn from the agricultural environment in west Cornwall where I grew up.
CURRENTLY...
NSA on View (8th – 30th Sept 2018).
I have three drawings on show with the Newlyn Society of Artists, at the Tremenheere Gallery, Gulval, nr Penzance, Cornwall
These are from the 'Shared authorship with the elements' series I've been working on. Click
here
to see more .
6th Ó Bhéal International Poetry-Film Competition 2018 shortlisted entry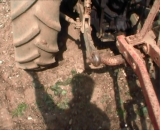 Another April
has been selected among 30 shortlisted poetry-films (from 18 countries) for this year's Ó Bhéal Poetry-Film competition. The shortlist was chosen from 193 entries from 33 countries, including all six continents. The shortlisted films will be screened in two parts, at the IndieCork Film festival on Sunday the 14th of October. The exact screening times will appear on the Ó Bhéal website with the shortlisted entries very soon, and will probably be around 2pm and 4pm. The screening venue is Dali, Carey's Lane, Cork city.
OVER THE PAST YEAR..
In October last year
Another April
was awarded third prize at the
Harvest Short Film Competition
at the
Harvest Film Festival 2017
, Lower Hewood Farm, Dorset. The ten shortlisted films have since been shown at Hauser & Wirth in Bruton, Somerset (January 2018) and at the Royal Manor Theatre during the b-side festival in Portland, Dorset (Sept 2018)
CWND artists' residency
This summer I was one of 18 artists on this residency based at the Wood Wharf construction site in the Canary Wharf financial district in east London.
It was organised and lead by artist Andrea Coltman and ran for 3 weeks, 20th July to 10th August 2018. The residency enabled participating artists to conduct research towards creating new pieces of work about the Canary Wharf district for an exhibition (to be confirmed) next year. Click
here
to see more photographs.
Woods to Where Else
In January 2018 I took part in a symposium at the University of Creative Arts in Canterbury with a group of six other artists to present the outcomes (and work in progress) of the
Woods to Where Else
project/residency. The project, which took place in November and December 2017, was based in Kings Wood near Ashford in Kent. It was commissioned by the Stour Valley Creative Partnership and grant funding has been secured for a publication on the project.